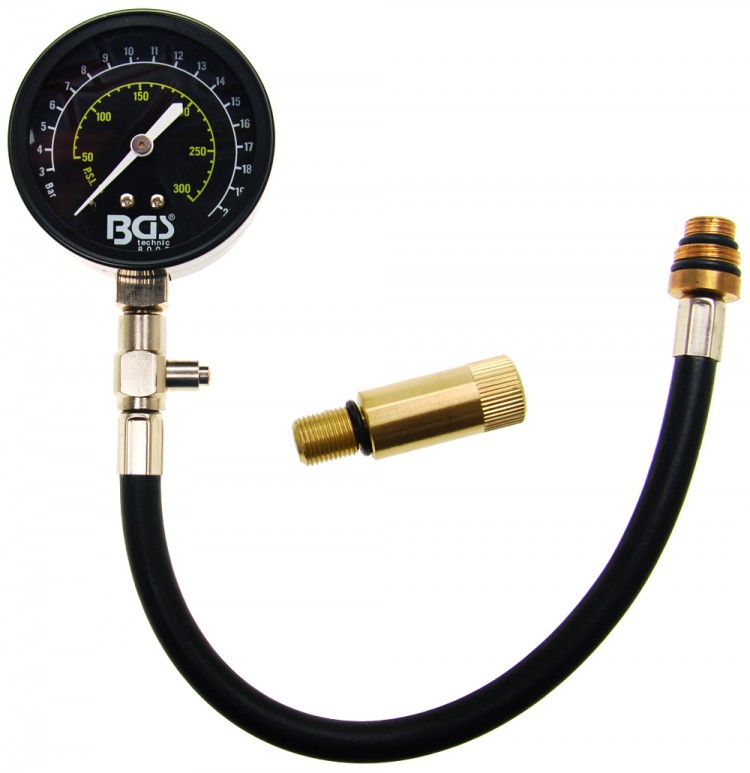 BGS 8005 Kompressionsprüfer Kompressionstester bis 21 bar Anschluß 14 + 18 mm
---
---
EAN 4026947080055
Condition New
Weight 440g
Delivery time 1-3 workdays / in stock



Short link https://www.fluidonline.de/en/a-180
---
BGS 8005 Tester für Kompression / Kompressionsdruck bis 21 bar max. Druck
Beschreibung:
ideales Prüfinstrument, um durch einen einfachen Vergleich der Zylinderdrücke den Zustand eines Motors zu beurteilen und um defekte Ventile und Kolbenringe aufzuspüren.
Das Gerät ist goldeswert beim Gebrauchwagenkauf, damit läßt sich jeder schlappe Motor erkennen (Faustregel: Der Druckunterschied zwischen den Zylinderdrücken sollte max. 1,5 bar betragen; bei größeren Unterschieden ist irgendetwas nicht in Ordnung)
Der Höchstdruck bleibt bis zur Rückstellung durch den Rückstellknopf "gespeichert"
Das Testgerät für Kompression wird an Stelle der Zündkerze eingeschraubt. Zur Prüfung muss dann der Motor mittels Anlasser durchgedreht werden
kann auch von einer Person allein bedient werden.
Für alle Fahrzeugtypen im PKW mit Benzinmotoren geeignet
technische Daten:
max. Anzeigedruck: 21 bar
Durchmesser des Manometers: 60mm
Metallgehäuse
Anschlußgewinde: Stufengewinde 14 x 1,25 mm & 18 x 1,5 mm (optional bieten wir einen Adapter auf M12 an)
Verlängerungsadapter Länge 40mm mit Anschlußgewinde M14 x 1,25mm
Schlauchlänge: 300mm
Rückstellknopf zum Ablassen des Druckes
NICHT geeignet für Dieselmotoren!! Hier liegen die Kompressionsdrücke meist über 21 bar (Selbstzünderprinzig!)
| | |
| --- | --- |
| Item ID | 180 |
| Condition | New |
| Model | 8005 |
| Manufacturer | BGS |
| Content | 1 piece |
| Weight | 440 g |
Do you have questions about an article?
Please fill out the name of the article and your e-mail address in the form.