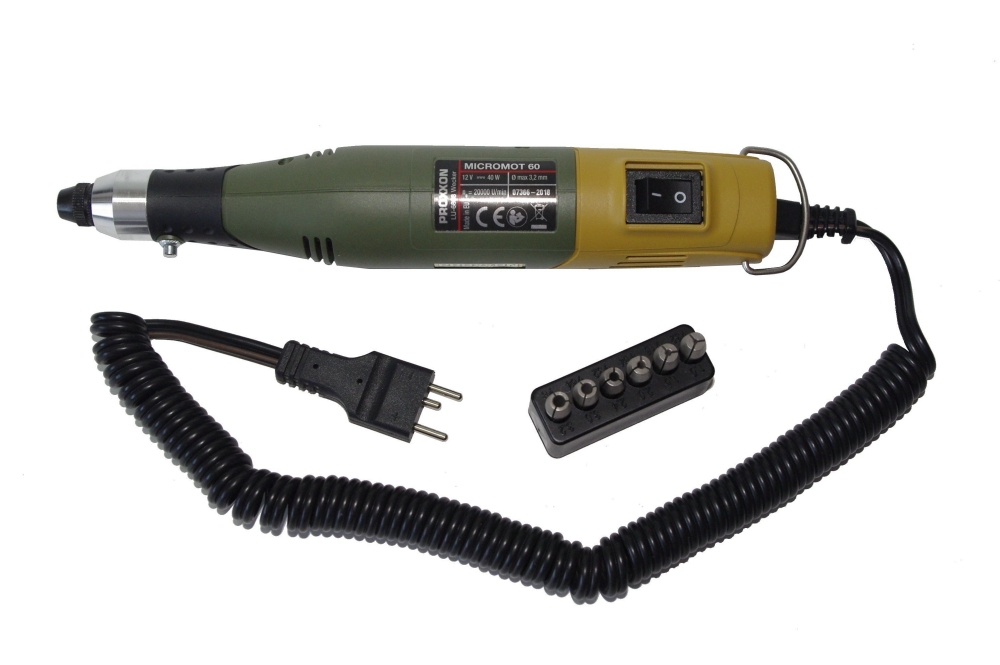 PROXXON 28500 Bohr- und Fräsgerät MICROMOT 60 ohne Drehzahlregelung
---
100.000-fach bewährte Geräte, die ihren Benutzern viel Freude gebracht haben.
---
EAN 4006274285002
Condition New
Weight 320g
Delivery time 1-3 workdays / in stock



Short link https://www.fluidonline.de/en/a-348
---
PROXXON Bohr- und Fräsgerät MicroMot 60 ohne Drehzahlregelung
Proxxon Nr. 28 500
Beschreibung:
100.000-fach bewährte Geräte, die ihren Benutzern viel Freude gebracht haben.
Kugelgelagert - mit Kühlsystem für Dauereinsatz
Dies hat Gründe:

Mit einem Durchmesser von nur 35 mm sind sie unübertroffen handlich.
Dazu das geringe Gewicht (ca. 230 g), ein angenehmes singendes Geräusch und freier Lauf durch balancierten Motor mit geschliffener, kugelgelagerter Spindel.
Es gibt kein Rattern und Schlagen der Einsatzwerkzeuge. Wie alle Maschinen dieser Baugröße, werden sie mit Niedervolt-Sicherheitsspannung betrieben (12 V)
Technische Daten:
Leerlaufdrehzahl 20.000/min (ohne Drehzahlverstellung!!)
Durch Phasenanschnitt und Feed-Back-Effekt hohe Durchzugskraft im unteren Drehzahlbereich.
Inkl. 6 Stahlspannzangen von 1,0 - 1,5 - 2,0 - 2,4 - 3,0 und 3,2 mm
Stromaufnahme bis 40 Watt
inkl. Anschlußkabel mit PROXXON Systemstecker mit Verpolungsschutz
Länge 220 mm
SPANNUNGSVERSORGUNG:
Zum Betrieb ist das PROXXON Netzgerät NG2/s Nummer 28706 oder Netzgerät NG2/E Nummer 28707 am besten geeignet.
Beim Betrieb am Netzgerät NG2/e kann die Drehzahl des Handgerätes über das Netzgerät verstellt werden.
Alternativ ist auch das Netzgerät NG5/E geeignet (falls mehrere Geräte gleichzeit angeschlossen werden sollen)
man kann dieses Gerät auch an anderen Spannungsquellen anschließen (z. B. an einer 12 Volt Autobatterie)
Hinweis zur Verwendung eines Bohrfutters:
Auf die aktuelle Ausführung passt nicht das 3 Backen Bohrfutter Nr. 28941
Sollten Sie ein Bohrfutter benötigen, so bestellen Sie lieber das Bohr- und Fräsgerät Micormot 60/EF Nr. 28512 und dazu den Spannzangensatz 28940
| | |
| --- | --- |
| Item ID | 348 |
| Condition | New |
| Model | 28500 |
| Manufacturer | PROXXON |
| Content | 1 piece |
| Weight | 320 g |
Do you have questions about an article?
Please fill out the name of the article and your e-mail address in the form.