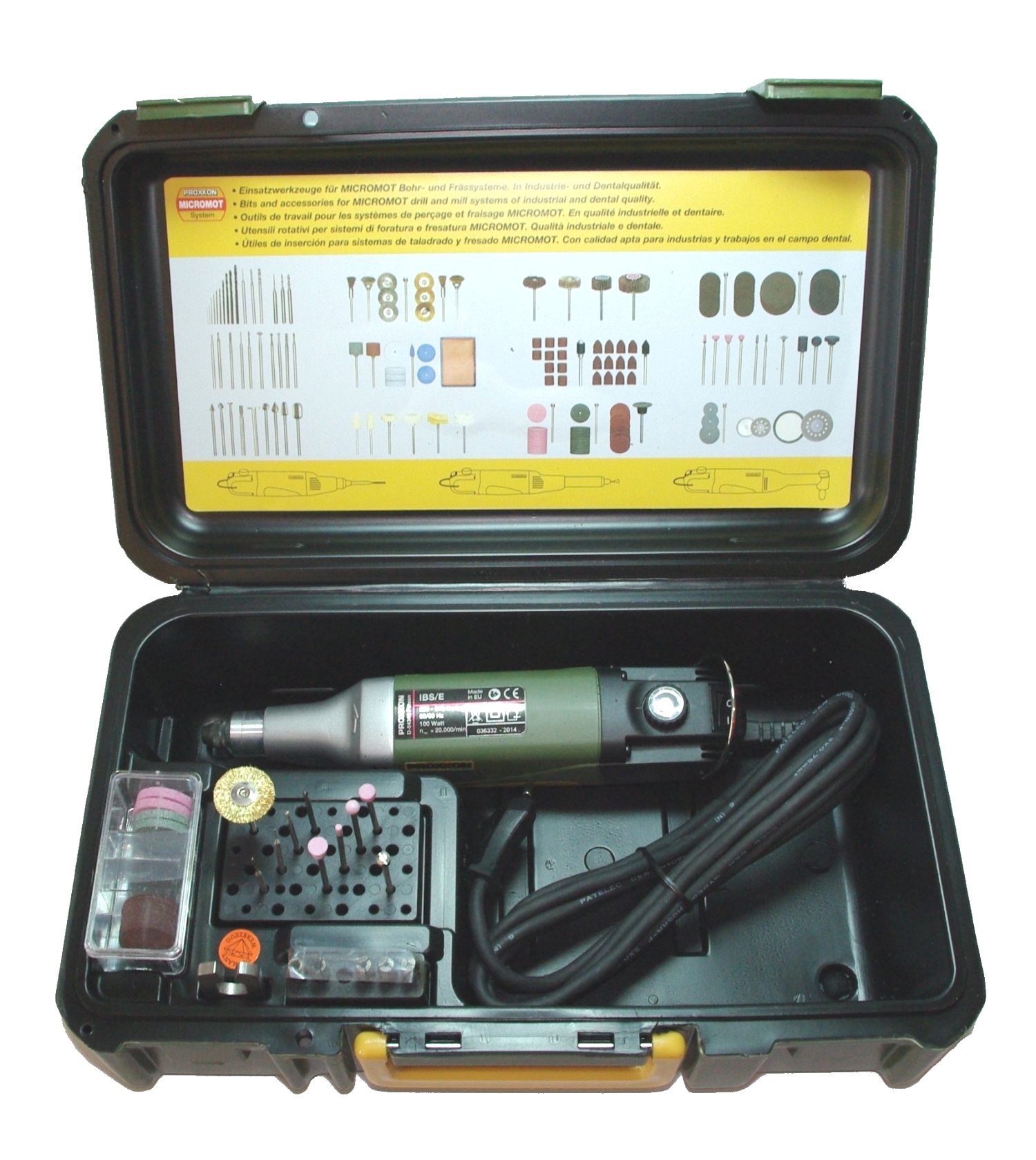 PROXXON 28481 Industrie Bohrschleifer IBS/E (IB/E) mit Zubehör im Koffer
---
..inkl. 34 Einsatzwerkzeuge und Kunststoffkoffer zur Aufbewahrung
---
EAN 4006274284814
Condition New
Weight 2300g
Delivery time 1-3 workdays / in stock



Short link https://www.fluidonline.de/en/a-137
---
PROXXON 28481 Industrie Bohrschleifer IBS/E (IB/E)
Proxxon-Nummer 28 481 (hieß früher IB/E - jetzt IBS/E)
Anwendungsbereich:
Industriebohrschleifer für den Dauereinsatz beim Bohren, Fräsen, Schleifen, Polieren, Reinigen, Trennen, Gravieren und Signieren
Für Feinmechaniker, Modellbauer, Schmuckwerkstätten, Optiker, Kunstgewerbe und Elektroniker.
Hohe Rundlaufgenauigkeit (max. 3/100 mm)
Kein Rattern und Schlagen der Einsatzwerkzeuge
2 fach gelagerte Spindel
Ein Schnellläufer mit balanciertem Spezialmotor - Stufenlose elektronische Drehzahlregelung (Vollwellenelektronik); Kugelgelagerte Präzisionswelle aus geschliffenem Stahl
Mit 6 dreifach geschlitzten Stahlspannzangen 1,0 - 1,5 - 2,0 - 2,4 - 3.0 und 3,2 mm, inklusive Spannmutter
Verpackt in einem unverwüstlichem Kunststoffkoffer - zusammen mit den oben gezeigten 34 Einsatzwerkzeugen!
Technische Daten:
Drehzahl: 5.000 - 22.000/min - stufenlos regelbar
Stromaufnahme maximal 100 Watt
Spannung 220 - 240 V
Stabiler Getriebekopf aus Alu-Druckguss und radial angeordneten Lüftungsschlitzen
2 fach gelagerte Spindel
Hauptgehäuse: glasfaserverstärktes POLYAMID
Länge 230 mm
Schutzisoliert nach Klasse 2
Mit 20 mm-MICROMOT-Systempassung vorne für den Einsatz in Bohr- und Horizontalständern z. B. Proxxon Bohrständer 28606 & 28600
Lieferumfang:
1 x Industriebohrschleifer IBS/E mit 6 teiligem Spannzangen Satz
1 x 34 Einsatzwerkzeuge (Bohrer, Schleifer, Fräser etc)
1 x Schlüssel zum Werkzeugwechsel
1 x Kunststoffkoffer zur Aufbewahrung
1 x Bedienungsanleitung mehrsprachig, natürlich auch auf Deutsch
1 x EU Konformitätserklärung
Vorteile der 3 fachgeschlitzten Spannzangen:
MICROMOT-Stahlspannzangen sind gehärtet und haben dadurch eine hohe, beständige Federkraft.
Sie behalten die erforderliche Genauigkeit auch nach langem Gebrauch (nicht vergleichbar mit ungehärteten, vierfach-geschlitzten Spannzangen und solchen aus Messing oder Aluminium).
Durch Dreifach-Schlitzung, die wesentlich schwieriger zu fertigen ist als Vierfach-Schlitzung, existiert ein besseres Bett.
Dies ist wichtig für das zentrische Fassen von Schäften mit geringem Durchmesser.
Hinweis zur Verwendung eines stufenlos einstellbaren Bohrfutters:
Leider kann bei diesem Gerät das stufenlos verstellbare PROXXON Bohrfutter 28941 nicht verwendet werden. Die  herausstehende Welle ist zu kurz.
Eine sehr praktikable Lösung ist die Verwendung der Biegewelle 28622. Die ist mit einem stufenlos verstellbaren Bohrfutter (Spannbereich bis 3,2mm) ausgestattet.
| | |
| --- | --- |
| Item ID | 137 |
| Condition | New |
| Model | 28481 |
| Manufacturer | PROXXON |
| Content | 1 piece |
| Weight | 2300 g |
Do you have questions about an article?
Please fill out the name of the article and your e-mail address in the form.