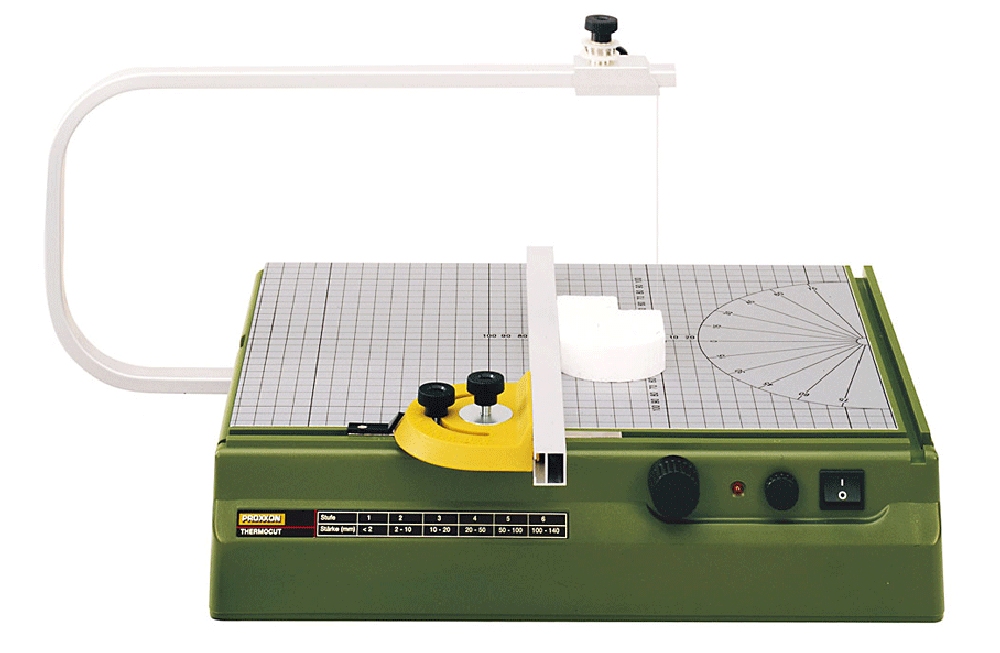 PROXXON 27080 THERMOCUT 230/e Heißdraht Schneidegerät / Styroporschneidgerät
---
...zum sauberen Schneiden von Styropor (auch Styrodur®)
---
EAN 4006274270800
Condition New
Weight 4250g
Delivery time 1-3 workdays / in stock



Short link https://www.fluidonline.de/en/a-77
---
PROXXON 27080 THERMOCUT - Heißdraht-Schneidegerät
Proxxon-Nummer 27 080
Beschreibung:
Zum Trennen von Schaumstoff, Styropor und Styrodur® und thermoplastischen Folien
Auch für Arbeiten mit Schablonen geeignet.
Mit 2-Funktionen-Anschlag mit klemmbarer Führungsschiene (Deutsches Patent Nr. 100 00 102.5).
Die Oberfläche ist aus Alu-Cobond-Verbundmaterial. Für leichtes und gleichmäßiges Gleiten des Werkstücks. Mit aufgedrucktem Raster und Winkeleinteilung zur Orientierung bei der Arbeit.
Für Architekturmodellbau, Designer, Dekorateure, Künstler (auch kunstgewerblichen Unterricht), Prototypenbau. Und den klassischen Modellbau (Bahn, Flug, Schiff).
Stabiler Korpus mit 390 x 280 mm großer Arbeitsfläche und einer Oberflächenstruktur, die das Werkstück leicht und gleichmäßig gleiten lässt.
Aufgedrucktes Raster und Winkeleinteilung erleichtern das praktische Arbeiten.
Massiver Alu-Bügel (350 mm Ausladung und 150 mm Höhendurchlass).
Mit Sattel und Drahtspule (30 m Schneidedraht Ø 0,2 mm gehören dazu).
Durch Verschieben des Sattels auf dem Bügel sind auch Gehrungsschnitte möglich.
Eine LED-Betriebsanzeige verhindert verbrannte Finger, denn der Schneidedraht erhitzt sich auf volle Temperatur in weniger als 1 Sekunde.
Hinweis:
Die richtige Temperatur (je nach Material und Stärke) erfährt man nach Gefühl und Übung. Optimales Schnittbild wird eher bei mittlerer Temperatur und mäßigem Druck erreicht.
NICHT geeignet für:
Kunststoff, Moosgummi etc.
technische Daten:
220 - 240 V, 50/60 Hz
Ausladung 350 mm
Höhendurchlass: 140 mm
Arbeitsfläche: 390 x 280 mm
Trafo sekundär maximal 10 V bei 1,0 A
Schneidedrahttemperatur bei Ø 0,2 mm regelbar von ca. 100 bis 200° C
Das Gerät ist schutzisoliert nach Klasse 2
Im Lieferumfang ist eine Rolle Schneiddraht enthalten
Durch eingebauten Trenntrafo und Schutzisolation nach Klasse 2 ist das Gerät absolut sicher. Die Heizelemente arbeiten mit 10 V bei 1,0 A.
Anwendungsvideo:
| | |
| --- | --- |
| Item ID | 77 |
| Condition | New |
| Model | 27080 |
| Manufacturer | PROXXON |
| Content | 1 piece |
| Weight | 4250 g |
Do you have questions about an article?
Please fill out the name of the article and your e-mail address in the form.