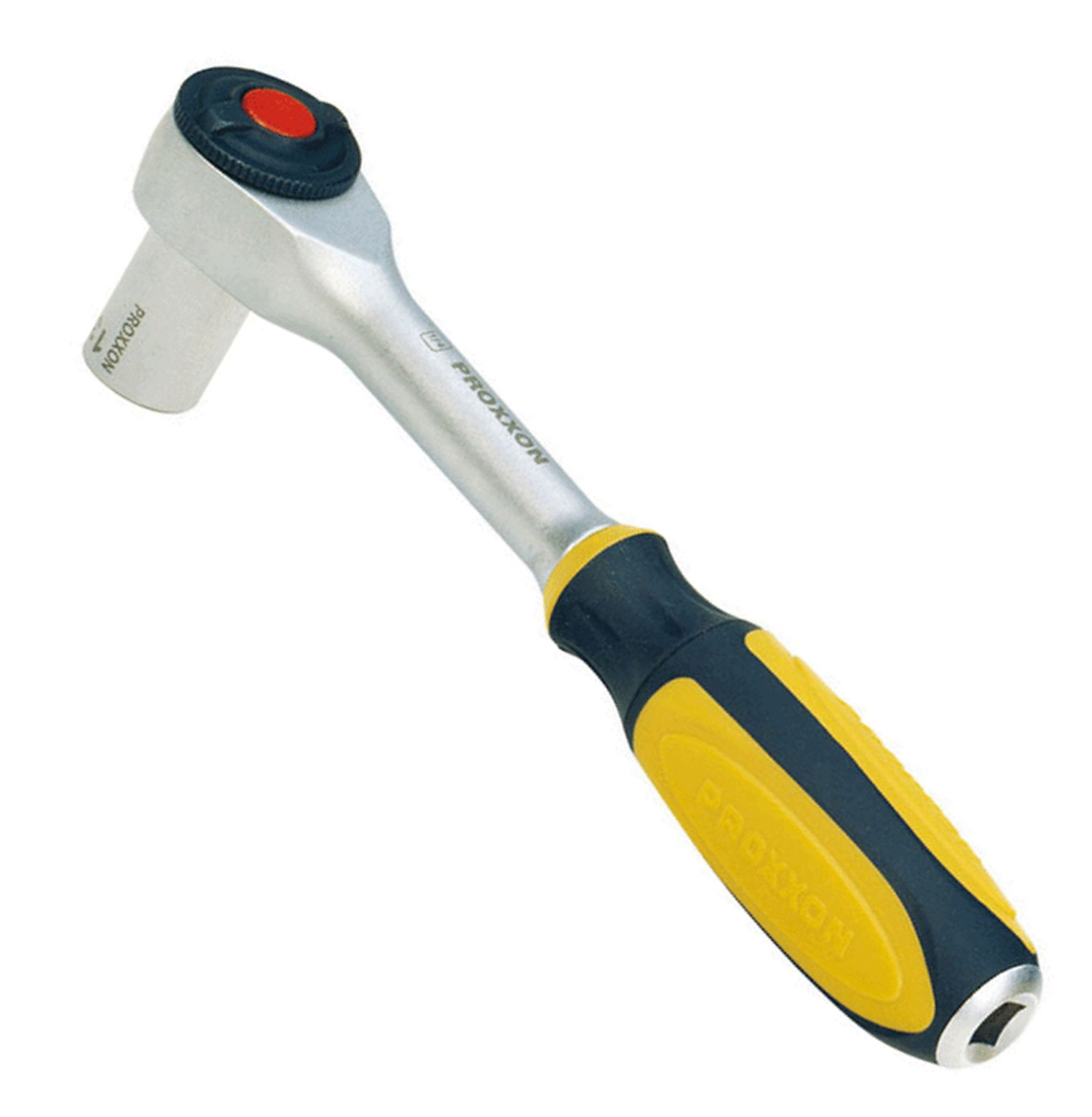 PROXXON 23082 Rotary Ratsche Antrieb 6,3mm (1/4") mit Drehgriff
---
....mit Winkelschraubfunktion , für Ecken an die man sonst nicht kommt.
---
EAN 4006274230828
Condition New
Weight 260g
Delivery time 1-3 workdays / in stock



Short link https://www.fluidonline.de/en/a-71
---
PROXXON 23082 Rotary Ratsche Antrieb 6,3mm (1/4") mit Drehgriff
Proxxon-Nummer 23 082
Beschreibung:
Kein Platz zum Hebeln? Zum Beispiel an Heizungs- und Klimatisierungsanlagen von PKWs?
Für die Rotary-Ratsche kein Problem! Durch Drehen des Griffes kann einseitig auf Anschlag vorgespannt werden. Wenige Millimeter reichen zum Lösen und Festschrauben. Im "Leerlauf" genügt die Rotation des Griffes.
Durch das Drehen am Griff steht dem Nutzer eine Winkelschraubfunktion zur Verfügung. Damit kann man auf engstem Raum arbeiten.
Nähere Beschreibung:
Mit Entriegelungsmechanismus (Lösen der Einsatzwerkzeuge durch Knopfdruck) und zuverlässiger Umschaltung von Rechts- auf Linkslauf.
Feinverzahntes Getriebe ermöglicht den Einsatz mit normaler Ratschenfunktion.
Handlicher Griff mit "Schrauber-Ergonomie" aus Zweikomponenten-Material.
Winkelschraubfunktion durch Drehen des Griffes.
Ein übliches Problem: Eine lose Schraube oder Mutter kann nicht gelöst werden, weil sie sich beim Pendeln mit hin und her dreht. Sie sitzt zu locker, um den Ratschenmechanismus auszulösen. Lösung: Bei der Rotary-Ratsche einfach den Griff drehen!
Technische Details:
Gummierter Griff
6,3mm (1/4") Vierkantantrieb
Rechts- / Linkslaufumschalter
6,3mm (1/4") Vierkant-Anschluß am Griff
Länge: 180mm
Feinverzahntes Getriebe für normale Ratschenfunktion
max. zu übertragenes Drehmoment: 62Nm
| | |
| --- | --- |
| Item ID | 71 |
| Condition | New |
| Model | 23082 |
| Manufacturer | PROXXON |
| Content | 1 piece |
| Weight | 260 g |
Do you have questions about an article?
Please fill out the name of the article and your e-mail address in the form.